15

Sep 2013
Handy Hygiene Hints and Tips for your Home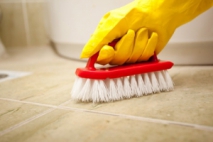 No matter how well you clean your home, unless you're taking the time to make sure the cleaning items you're using are up to scratch you could in fact be spreading more bacteria around your house. It's an easy mistake to make to assume that cleaning products and accessories are going to remain germ-free, but it's up to you to make sure that yours are in the best condition possible. If you're concerned that you're spreading more bacteria around your home then have a look at this list of handy hygiene hints and tips to keep your home as germ-free as possible.
- Kitchen and household sponges.
It's a common problem for people to not replace their kitchen and household sponges on a regular basis. If yours are looking tired and worn then this is a good time to replace them. Your household sponges can be a breeding ground for bacteria so it's important you sanitise them on a weekly basis to ensure you're not further spreading bacteria around your home. Luckily it's quite a simple process – just soak your sponges in a mixture of water and bleach to kill unwanted germs. Alternatively you can microwave your household sponges on a high power for up to a minute. This is a great and fast way to get rid of bacteria and will mean you're getting the best possible clean from your sponges.
- Your toilet brush.
Your toilet brush has to deal with a lot of bacteria quite frequently. Make sure that yours stays as hygienic as possible by soaking it in bleach on a regular basis. Try adding a drop of lemon juice to your toilet brush holder to keep it smelling fresh – don't forget that the holder is going to need cleaning too! Use a disinfectant spray or soak it in bleach to ensure a decent clean.
- Cleaning your mop.
Bleaching your mop on a regular basis means that you won't be spreading germs around your home when you clean your floors. After you've used it simply soak your mop in your mop bucket overnight, in a mixture of lukewarm water and a capful of bleach. If your mop is looking tired and old then why not try replacing it so you're getting the most for the floors in your home?
- Storing your kitchen utensils.
Clean crockery, cutlery and kitchen utensils won't stay clean and bacteria-free for long unless you're ensuring that your cupboards and drawers are frequently and well-cleaned. Empty all your cupboards and drawers (this is a great way to get rid of expired food products as well) and wipe them down with an antibacterial or disinfectant spray and a clean, damp cloth. Make sure they're thoroughly dry before replacing your items! For a more natural and less chemical clean then try mixing together a spray bottle of lukewarm water and lemon juice. The natural anti-bacterial properties of citric acid make it a great alternative to get your kitchen sparklingly clean and smelling fresher for longer!
You may also like: